This is a report about one of the second season shows from 2009. You may also:
» Display all my reports about this season 2.
» Display everything about the first season 2008.
» Display all articles about Uri Geller.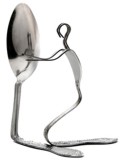 Second show today – hopefully again without Geller's "experiments", i.e. the tricks that mostly annoyed because of their presentation as actual paranormal events in the first season, which however we were spared in the 1st show.
Anyway, today it's time for the other 5 contestants, and the press release naturally emphasizes on "the most magic seduction since there are mentalists", 25-year-old Amila – also known as Belinda Roy –, only woman among the candidates (and originally no mentalist). She wants to step into a water tank (and of course escape before running out of air) – and they need a mental element for the spoon bender show (translated):
But only one celebrity guest knows the secret number code of the electronic lock.
So I suppose the lock is to be opened from the inside and she has to "mind-read" the code, otherwise it wouldn't make sense. Anyway, important is that she's some eye candy.


Also, today we will see performances by Aaron Crow ("uses a ring, an apple and an arrow, putting a celebrity guest in a dangerous situation"), Manuel Horeth ("Will he be able to predict the right number among millions?"), Gabriel und Daniel (who "even sense and transmit movements which will be determined by the celebrity guest") and Waayatan ("plays with the shadows and will use them to touch the celebrity guests").
Celebrities today: Actress Mariella Ahrens (39), Queensberry-(yes-another-casting-show-result)-singer Gabriella (19), whose last name De Almeida Rinne seemed to have been too complicated for the Pro7 press release writer, so the half-Brazilian is only listed with her first name, and comedian Simon Gosejohann (33):
"I'm rather skeptic here. Hopefully Mr Geller will tolerate that and not turn me into a pig or a rat."
Haa haa. Well, never been a fan of Comedystreet anyway… So let's switch to Hilversum to the studio to "the show that gets under the skin", at least according to the announcer… 11 strange glances (9 single and 1 contestant pair) greet us. Uri is in the current Playboy magazine – "I was young and needed the money", haa haa. No, just an interview. And Uri speaks about the "special power" he has: make one contestant enter the next round directly. He just can't do without that stupid talk…
Celeb introduction (see above), text stating Aaron pulling a Wilhelm Tell tonight, the celebs alledgedly don't know yet. Mariella outs herself as mysticism believer – so she fits perfectly in the show –, Simon is rather (jokingly) scared of Vincent Raven behind him, and "Gabby"'s mother got voodoo experience…
Contestant 1: Aaron Crow
The silent mentalist, grown up in Bruges (Belgium), introduced in a short film. A rat alledgedly once scuttled over his bed, leading him to the "fight fear" topic. Martial arts experienced. So he's a real "war racoon"

(an anagram of his name)…
At the beginning, he plays around with laser pointers and thus selects Gabriella and Simon. Simon babbles something silly, Aaron gestures him to remain silent. Bravo! Gabi takes off her ring, Aaron makes a hole in an apple, puts the ring inside and closes the hole again. Apple on a board with a nail, collective contemplative looking-around, Simon now holds the board above Gabi's head. Crow unveils a targed on the right and a large bow on the left. Now what will happen…? Gabi's scared, Aaron turns in circles and eventually shoots. Quite suspenseful, actually… (Fine thread or is he really that good? Hardly.) Apple cut in halves, of course, ring on the arrow, of course. Ending scene with putting on the ring and a kiss which Crow gestured the two to do.
Added lated: The gellerentlarvt blog says: the ring was taken out before and put on the arrow, and the apple was cut by a knife in the board, so Aaron only had to hit the target.
Geller shares Vincent's opinion who gave standing ovations (remains seated, though), and said it was fantastic.
Vincent will perform next weak already? Why? – Anyway, Manuel's phone book heap is introduced, as well as Amila's water tank. And the commercials. Again only 5 minutes including lots of own trailers.
Contestant 2: Manuel Horeth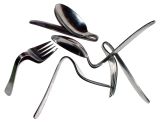 Hopefully not just an "other lame hun" (yes, an anagram of his name), this "smart mind twister" from Austria. Had been given an (unspecified) magic book by his granddad.
"The stage is yours", and unfortunately he's not silent but speaks about the 75 million possibilities of a phone number, which this act is about. With all phone books from Germany, he says. Gabi picks 6 viewers, the other 2 quickly page thrugh the books to check if they're real. One envelope per viewer with one digit each (he says; will be opened at the end).
Mariella is the "victim" for the eye-staring routine, then she must pick a "special" phone book (any book): Frankfurt and Offenbach am Main, it says. Simon throws a ball over his back into the audience, eye-staring over a distance, the audience member must think about a number between 104 and 1048 (the pages with actual phone numbes in the book) – and then says: 218. Second ball, same game with the column on the page: 3. For the number, he glides down the column with his finger, Mariella says stop. Reads: X 2 4 (X for privacy reasons, of course), continues: 1 7 5 X. Simon writes it on a board.
The viewers (+Gabi) no.2 to 6 open their envelopes: Numbers correct. Unnecessarily long, of course. And X at the ends. (Do magic shops carry fake phone books, or is that remote-controlled display paper in the envelopes? Or does Mariella only say an arranged number?)
Added later: Plausible explanation from urigellertricksentlarvt.de: a manipulated template as "reading help" for Mariella, on which the X as well as the number are written.
Geller: "Phantastic". Didn't sound that enthused as usual… (which I'd understand).
Contestants 3: Gabriel and Daniel
The mental double, who alledgedly helped each other in childhood days when one had fallen into a well. "Take a deep breath and relax", Uri advises the youngest contestants. Gabriel wants to mentally transmit Daniel his body positions. Ridiculous handshake gesture dance, after which they say they're telepathically connected. Mariella onto the stage; to examine his ears for earphones. Well, there are also solid-borne sound speakers, which he might have hidden under his hair – if that's how they do it. Anyway, he gets blindfolded now.
Mariella is told to raise an arm of Gabriel's, Daniel shortly afterwars raises his. (Hope I don't mix up the names…) Could be coincidence, he says. Again. Right again. Now touch one of 10 fingers (not briefly, but keep touching) – her index finger on his ring finger, the receiver points at his index finger – wrong. Bad peek? Blindfold not see-through enough? Intentional? Second attempt works.
Mariella now has to remodel Gabriel into a statue of her choice – like a dog lifting his leg.

Daniel moves slooooowly, then gets it right. And that's already the end. Well, Mareille may show again how far from reality her thinking is: she believes in such "energies".
Geller thought it was convincing.
Verena
…not as contestant, of course, but finally, glittering in silver, briefly on stage: she will accompany Amila's tank "experiment" later on. Later on, for now it's commercial time again.
Negative word of the year: "experiment".
Contestant 4: Amila
"The magic seduction", once rolled over by a S-train, said to have a 6th sense for danger now. Or she just made that up for Uri, who knows. Hope it's going to be more exciting with her water tank after the two boers, erm, bores (rather 3: Manuel+double) before.
Needs help "from you two", but all 3 celebs get up. She meant Simon and Mariella. (So certainly it's time for Gabi later wit the Indian.) Verena explains how it works: 1000 liters of water, no air, lid closed. Combination lock: bicycle lock with four digits, customizable. No eletronic lock as the press release had told. Mariella covers Belinda-Amila's eyes, Simon sets the lock, Verena writes down the code. Certainly someone in the back will read along…
Amila explains more – she will write the code on a board in the tank, which then Mareille is to use on the lock that locks the tank. And the green-blue lit Amila takes complete responsibility – and takes of coat and skirt before she's lowered down into the tank, gracefully spinning around. Water's getting higher, and Amila's already very wet (admit it, you waited for this ambiguous, cheap joke!). "Concentration", she says with a tinny echo while Simon hold the hand at the tank, which is filled completely now.
And, thrillingly, it doesn't work. Mr bolt-cutter's time – Amila wrote 1923(?), but it was 1963 (year of Goldfinger – later: as Simon said, but it was released 1964). So someone peeked or whispered it wrong… Amila, dripping wet, understandably doesn't look too happy. (I rather don't think the mistake was intentional. Or was it?) Well, for this big announcement, even if it had worked it would have been too much technical talks before to be really intoxicating as a single act, I think.
Geller praises her anyway.
Contestant 5: Waayatan
Indian ancestors of the clan of the shadow panthers, who are found on the internet mostly on World of Warcraft pages. Wants to show the power of the shadows tonight. Introductory shadow plays, luckily with less talk as Vincent last year. Somehow I got the impression that Vincect split himself into Ully Loup and Waayatan for this season.

Waaya feels the celebs' hands for a long time and then takes Gabi and Simon with him. Blathers about the shadows with which an impressed Gabby is supposed to make contact. Close eyes, concentrate, blabla. at..a..a..yawn (you guessed it, an anagram of his name.) Waayi touches her shadow, 2 meters behind her, she felt the touches on her shoulders, she says (did she get the number wrong?) – however, one may wonder when she felt it: only during the shadow-touching or earlier when he fumbled around with one hand before her face etc., that's how a trick in season 1 also worked. Finally (when she's standing) he touches the shadow of the folding chair which promptly falls down. Nice… but still somehow short for all that long concentration fuss before.
Geller says Waayatan should show more energy, praises him otherwise, wants to see more of him.
Decision
Geller again praises Amila's risking her life, grants no immunity today, though. I suspect he had planned to immunize Amila, but thanks to the problems she had, he couldn't do that. But first some commercials; back at 21:52! I hope they don't take all the time until the announced end of 22:08 (EPG) or 22:15 (magazines) for telling the results.
Applause for the "sensational" celebrity guests – Mariella thought it was entertaining, doesn't want to pick a favorite; Simon is confused ("Amilia"… "Amil..la"); Gabi was "flashed away". Don't phone in anymore, they need time to have the result "notarially certified", so Vincent may announce his tarot cards and his ravens for next week (when I guess the 4 who won last week will perform again).
21:58: Finally. Welcome to the typically slow results announcement. Aaron set aside; Horeth, double made it. Amila set aside; Waayatan passed. Maximum certainty – at least in the single commercial they inserted. 22:01½: Amila passed, dropped out: Aaron Crow, he's got to go. Quite a pity, actually.
Aaaargh, a "live experiment" of Uri's next week. Is that necessary, this shock at the end?
It's now 22:02 Uhr – over and out, much too early, compared to the announced times. That is the true incredible phenomenon…
Ratings
Even more desastrous than last week: only 1.85 million (5.7% market share) total or 1.26 million (9.5%) in the 14-49-year target audience.
---
See also:
ProSieben page about the show (German).
» Go to all my posts about Uri Geller. «
---
Photos: shadowvincent/Fotolia, wilhei66/sxc, shadowvincent/Fotolia