Since there are several visitors interested in men's thongs/strings or string/thong men showing up here but finding only my Lego joke, I thought I'll do a serious poll about this topic:
Loading ...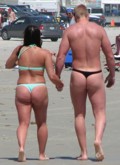 The "Yes" answers are not intended to imply you're wearing exclusively strings/thongs, occasional thong wearers may (and should) also reply with "yes".
And for quibblers similar to myself: The answers are verbalized from the men's point of view; women who want to answer please imagine them re-worded accordingly, referring to your boyfriend/husband…
Privacy notice: If you have commented on this blog before and don't want me (and only me, this is never public) to see what you voted, you must delete your respective cookies or use a different browser.

(Photo by m197203 on flickr.com – CC license by-nc-nd)