This is a report about one of the German second season shows from 2009. You may also:
» Display all my reports about this season 2.
» Display everything about the first season 2008.
» Display all articles about Uri Geller.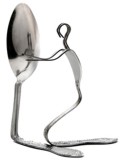 Show number five tonight, and again Pro7 didn't make the effort to write a press release but only a few short newsflashes.
It's time for all six remaining contestants: Gabriel and Daniel, Manuel Horeth, Waayatan, Jan Becker – searches "the neeedle in the haystack" or rather an apostrophe object hidden in the studio with the help of the celebrities' eyes –, Jan Rouven – he is "hung headlong on 3 burning ropes several meters above the ground. With the help of his mental abilities he wants to find the correct key to save him from falling on pointed spears" – and Ully Loup.
Celebs today: Singer Joy Flemming Fleming, Tatort actor Ingo Naujoks (who had been pre-announced for last week but wasn't there) and current Playboy girl, jungle camper and guardian angel parking-space wish bullshitter Giulia Siegel, about whom ProSieben writes (as usual, all quotes were translated by me):
She daily speaks with her guardian angels and even wrote a book about it. At "The next Uri Geller" tonight, she will meet Germany's best mentalists, some of whom will attempt dangerous experiments. Let's hope Guilia won't need her guardian angels tonight…
Following the show, there will be half an hour (gross) "Street Magic with Farid", about which the wunschliste.de newsletter wrote:
Better a good steal than a bad copy: What's just a stopgap on Disney Channel with Cody Stone under the name "Magic Attack" now makes the jump into the night program on ProSieben: Farid […] walks through pedestrian precincts and shopping malls and performes magic tricks in front of passers-by caught unaware.
According to Pro7, one of the performances will be reading the PIN numbers from the eyes of bank customers. Does Farid need money that desparately?

Anyway, maybe I'll write about that too, or maybe not, depending on how I feel like tonight.
The show