This is about a show from the first German season of "The Next Uri Geller" from early 2008. You can also:
» Show all my reports from the first season.
» Show everything about the second season 2009.
» Show really all articles about Uri Geller.

General reading tips (German): GWUP info page, GWUP special site.
Intoductory remarks
First, a little poem of mine:
so you say that – achad! –
real powers he got?

these "powers" are – shtaim! –
not worth a mere dime

is it mystic? – shalosh! –
no way, golly gosh!

---
achad, shtaim, shalosh: Hebrew for 1, 2, 3
And a perfectly matching current cartoon by xkcd: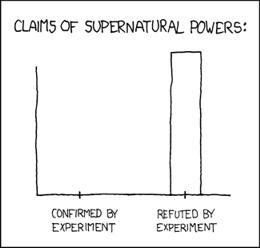 (via BA)
The show from 22 Jan 2008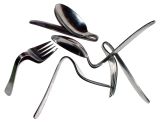 General reading tips (German): GWUP info page, GWUP special site.
The contestants' contracts
Skeptiker (GWUP) and Stern report about the contracts – among other things, the contestants would originally have had to sign that they "have distinct mental and intuitive abilities, such as mind reading, telekinesis, sugestion or autosuggestion".

» More (in German) at Stern!
The contestants' web sites
In my first show's summary, I was wondering:
The question is how much the contestants are behind the "real powers" balderdash which also was clearly shown in the short films introducing them – or if they rather submitted to the show's demands.
And checked their websites. I should do this for the other five contestants, too, of course (my translations):
And I still think: In any case, a magician who doesn't think too lowly of himself should not have applied for such a show in the first place.
Geller about his powers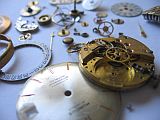 On the one hand in an interview of the Berliner Kurier (all my translations):
"? So you do have telepathic abilities?
! Without a doubt.
[…]
I beleive I had been given an extraordinary paranormal energy."
On the other habd in the Magische Welt (magic world), the independent German magazine for magic artists:
"I don't claim anymore that I have supernatural powers. I am an entertainer, I want to do a good show. My entire character has changed."
Now what?
The show from 15 Jan
At the beginning, press reactions are mentioned and shown in the background – only briefly and only positive ones, there must be a relation.

And did Geller really say, "we don't claim to have supernatural powers, we just want to enjoy it"? So really the new, more conservative line, if you will? (Cf. above.) Well, hopefully not the most interesting thing this evening…