This is a report about one of the German second season shows from 2009. You may also:
» Display all my reports about this season 2.
» Display everything about the first season 2008.
» Display all articles about Uri Geller.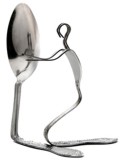 The fourth show is waiting (tonight 20:15), and this time ProSieben apparently didn't publish a press release, so I could only grab some info from a few newsflashes before the show.
Today the four surviving contestants from show 2 are performing again: Manuel Horeth, Gabriel and Daniel – one wants to see with the other's eyes –, Amila – "plays with the men" – and Waayatan – "a path full of threatening obstacles: barbed wire, board of knives, spears, scorpions and broken glass are blocking his path. But the mentalist wants to recognize and avoid them – blindfolded!"
A short news report about Vincent's health:
Raven father Vincent Raven suffered a stroke due to an aorta fissure, had to spend one week in hospital. He's on the mend since last weekend. Doctors call the quick recovery "a miracle".
Miracle. Of course. Pro7 just has to mention that. Anyway: get well!
Celebrities today: Actress Eva Habermann, actor/comedian Ingo Naujoks and the next Queensberry casting band member Leonore Bartsch, or Leo for short (20), who says: "I'm a person who kinda believes in supernatural things. We'll see if the contestants really have such a great power or if all is flimflam after all." Well, the first sentence already indicates that she won't look at it that objectively…
The show
English translation of my report will follow in a few days.