This is about a show from the first German season of "The Next Uri Geller" from early 2008. You can also:
» Show all my reports from the first season.
» Show everything about the second season 2009.
» Show really all articles about Uri Geller.

General reading tips (German): GWUP info page; and the blog with explanations and discussion already during the shows: The contestants' tricks, explained in an easy way. English: CSI (ex-CSICOP).
The ninth show from March 4 – the international competition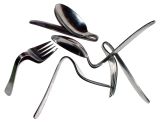 As if the shows in various countries had not been enough, this time we are presented with a selection of international winners or runners-up and a for once funny comedian – unfortunately, the celebrities are not that international.
The contestants, next to Vincent Raven, winner of the German show, are Angela Funovits who reached second place in the USA show "Phenomenon" (which had only 5 episondes, by the way) – what happened to the winner, Mike Super? –, Lior Suchard, Israel's winner ("The Successor"), Aaron Crow, "gloomy star" from "De nieuwe Uri Geller", the show from the Netherlands, and as "surprise guest of the evening" Morta Deller, known from Schmidt & Pocher – well, that really is a surprise that Geller lets Oliver Pocher appear here. Ratings, that's what counts – and something which may be intentionally funny.

From the preview on prosieben.de (my translation):
Raven father Vincent Raven demands: "I want to fight the best of the best!"
Even if he didn't want to, he had to, since this was planned long ago…
"All four belong to the best of their craft. But this time, they must push the envelope to earn the title 'World's Best Mentalist'", mystifier legend Uri Geller said. "During this unique live show, not the slightest glich must happen."
Oh, bad prospective for our raven daddy.

The show begins
"The most unusual international contest in television history" begins. Lots of cheering and standing ovations, especially for the old spoon fiddler – the audience might have been ordered to do so; but many arguably won't need that order, sadly.
Uri is overwhelmed by the success and tells about poor little children who shout "achat shtaim shalosh" when they see him on the street. The "poor" didn't come from him, of course, but from me. And Geller wants to sharpen the viewers' intuition – you can win some money, too.
Celebrity guests