This is about a show from the first German season of "The Next Uri Geller" from early 2008. You can also:
» Show all my reports from the first season.
» Show everything about the second season 2009.
» Show really all articles about Uri Geller.

General reading tips (German): GWUP info page; and the blog with explanations and discussion already during the shows: The contestants' tricks, explained in an easy way. English: CSI (ex-CSICOP).
(Note: If anyone knows good English sites, please let me know.)
Introductory remarks
Uri Geller was guest in last week's

Schmidt & Pocher

– reports (German), among others, at Welt and RP. Oliver Pocher as "Morta Deller" poked quite some fun at the "mystic" magic tricks, and while Geller played along – e.g. with the typical overly enthusiastic summary –, according to his facial expression, he seemed anything but enthused… Well, main thing is to be present and talked about, he knows from years ago that even bad PR is good PR.

The entire performance can be seen here on YouTube. And here's the end credits which some see as Geller going ballistic.

gedingst.de interviewed Nicolai Friedrich (German)

.
The Dodo of the Month January 2008, award for brainwashing of the people, went to ProSieben for "The Next Uri Geller".
And again, I'd like to mention my article titled "Magic?" with some arguments and thoughs on magic, paranormal abilities, rational explanations and dangers of too uncritical thinkung…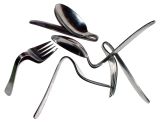 As always, in general: These are all tricks, no supernatural powers! And we'll see how good and entertaining today's tricks are… today, all six who are left in this mentalist race perform, and thus the show is planned to last two and a half hour (including commercials).
The show starts with a warning board: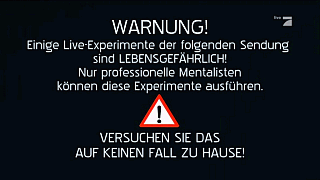 Translated: WARNING! Several live experiments of the following show are LIFE THREATENING! Only professional mentalists can execute these experiments.
NEVER TRY THIS AT HOME!
Life threat or no – calling the magic tricks "experiments" is ridiculous, though unfortunately fits in the scheme ProSieben and Geller are using in this show.

Loki and Helmut Schmidt had been reported smoking this week (no wonder) – and they have reserved two seats for them, with Geller promising that if they come, he'd guarantee to make them stop smoking.

Uri raves about the many "normal" people that thanked him for their smokelessness.
The most frequently asked question is passed along: "Uri Geller, do you have supernatural powers?" – Answer: "Stephan, of course I have no supernatural powers", plus an extreme wink in his eye. Meh. "Solved once and for all"? As if! Better had done without that rubbish.
Celebrity guests: Actress Michaela May, presenter Mareile Höppner – voted "most erotic news woman in Germany" in a poll – and dancer and Popstars juror Detlef D! Soost.
And I hope I never need the help of the three chief physicians who attend the show to pretend credibility – called "the incorruptibles" by ProSieben. Ha! If the invitation to appear on TV and sit almost in the front is no bribe, then what is?

New: After each performance, the viewers can vote (for 2 minutes).
Contestant 1: David Goldrake